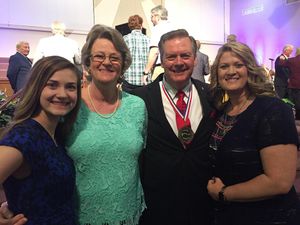 Nashville, TN (August 7, 2018) On August 4th, Mike Holcomb was inducted in the Tri-State Gospel Music Association Hall of Fame. The induction ceremony was held in Fort Oglethorpe, GA at Parkway Baptist Temple. 
Mike Holcomb has made an undeniable mark on Southern Gospel music. He spent over forty years with the Inspirations Quartet and left a legacy of iconic songs such as "When I Wake Up To Sleep No More," "If You Only Knew," "Is That Footprints That I Hear" and more. Holcomb is still impacting Gospel music today as a member of the Old Time Preachers Quartet. "I can't think of anyone in our industry that deserves this honor anymore than Mike. He is one of the finest singers I've ever heard but more than that, Mike is a man of integrity," stated Les Butler. 
Along with Mike Holcomb, the 2018 HOF class included Tracy Stuffle, Randy Perry, Andy Sharp, Joe Collins, Weldon Deerman, Jerry Foster, Jo Deerman Hall, Mike Hartley, Chanda Roberson and Greg Witt. "Gospel music has had so many incredible people leave a lasting legacy and we are honored to spotlight them," added Tim Owens, Tri-State Gospel Music Association. Past inductees include Lee Roy Abernathy, Anthony Burger, Phil Cross, Vestal Goodman, Tim Duncan and many more. 
Mike Holcomb's signature song "When I Wake Up To Sleep No More" has recently been released by the Old Time Preachers Quartet in honor of the songs 44th anniversary. In its first month on the charts, it debuted in the Singing News Top 40. "We are overwhelmed by the response to this song. Mike made this song a standard in Southern Gospel over 40 years ago and now he is introducing it to a whole new generation," stated Les Butler. 
For more information, go to www.oldtimepreachersquartet.com.